---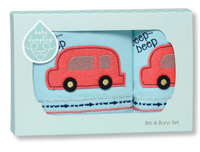 From CR GIBSON…
From the Little Dumpling line
2-piece Boys' Bib & Burp Set
Features embroidered "Beep Beep" and car on both pieces
Decorated with embroidered stripes and ric-rac trim. 
Materials: double ply, 100% combed cotton. 
Bib has snap closure. 
Burp cloth measures 8½" Wide x 21" Length.  
Two layered burp cloth is reversible.  
Care instructions: machine wash (cold) and tumble dry low.
Dimensions: 8"W x 2"H x 6"D
Weight: 0.37 lb. (5.8 oz)