---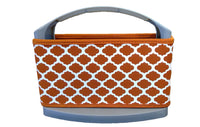 Sale
From Occasionally Made...
Take frosty beverages on-the-go with this charming cooler. The houndstooth cover and convenient carrying handle make this a great way to enjoy cold drinks on a camping trip or during a tailgate.
Just freeze cooler, snap it into plastic handle, and then slide your aluminum cans inside the neoprene band. Ready to go!
Includes freezer-pack cooler and reversible neoprene cover
Plastic / neoprene
Cooler: hand wash
Cover: machine wash
Carries six aluminum cans
Imported
DIMENSIONS: 9"W x 7.75"H x 4.35"D
WEIGHT: 1 lb, 10 ounces (26 ounces)