---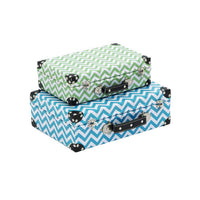 Features blue chevron pattern wood vinyl case made of quality wood.
'Wow!' will be the first word you utter when you lay your eyes on this wood vinyl case.
A treat for the eyes and the heart!
Letters from yesteryear, greetings, jewels or the first thing that your beloved gifted, it can be used to keep just about anything.
Made from quality materials, it is sure to last for a long time.
DIMENSIONS: 14" x 10" x 5"
WEIGHT: 2.8 lbs.