---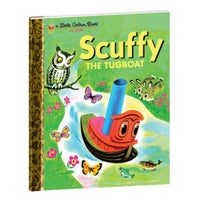 Beloved children's classic Little Golden Book!

"Scuffy was sad. Scuffy was cross.Scuffy sniffed his blue smokestack. 
"A toy store is no place for a red-painted tugboat, "said Scuffy, and he sniffed his blue smokestack again."
Meant for "bigger things," Scuffy the Tugboat sets off to explore the world. But, on his daring adventure, Scuffy realizes that home is where he'd rather be, sailing in his bathtub. For over 50 years, parents and children have cherished this classic Little Golden Book.
Hardcover
For ages 2-6 (Grades Pre-K to 1)
Dimensions: 6.5"W x 7.75"H x 0.25"D
Weight: 4 ounces