---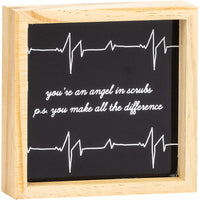 From About Face Designs...

The perfect affirmation for your favorite nurse, doctor, lab tech, veterinarian, or anyone who wears scrubs!
Inspired by the joy of receiving a handwritten letter, our Noted mini, framed art features minimalist black and white, hand-drawn patterns.

Each of the contemporary designs includes an original heartfelt message followed by a corresponding P.S. message.

Sentiment reads "You're an angel in scrubs; PS You make all the difference"

MATERIALS: ABS plastic, pine wood.

Perfect size for office desk, table top, or hung on a wall.

Ships in protective packaging.
DIMENSIONS: 4" W x 4"H x 1.2"D
WEIGHT: 1.7 ounces